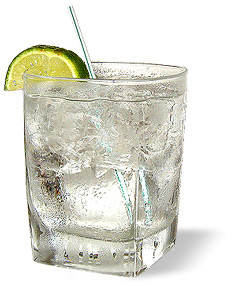 April 20, 2014
Here in the midwest we are just now recovering from a long, cold, and brutal winter. What says "Summer" more than a good cocktail? In this case, or for this discussion, a Gin and Tonic, specifically. Say what you will about the Brits, but they came up with a classic cocktail out of the simple necessity of trying to make antimalarials palatable.
The problem is that over the years we have cut corners. We slurp overly sweet tonic water, fake or preserved lime juice and cheap gin and call it a gin and tonic. How sad. Lucky for us there is a growing movement to regain the classic nature of those days past, and to that end I am going to talk about tonic.
Yes, I know, you probably think the gin is more important. There are a lot of good, small batch gins commonly available. I, personally, like Tanqueray as my go-to gin, but "The Botonist," "Deaths Door" and "FEW" make some great gins with the somewhat resinous flavor of juniper neatly blended with other savory botanicals. Take your pick.
Tonic, on the other hand, seems to be an after thought and that is really sad. So let us talk about tonic.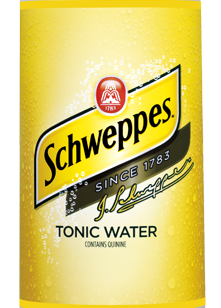 My favorite "common" tonic has been Schweppes. It isn't overly carbonated and doesn't make a mess every time I open a bottle (unlike Canada Dry). It's not cheap at just over $5 for 6, 10oz bottles or around $1 a bottle (including sales tax). According to the label, that bottle is one serving and tops out at 110 calories or 11 calories an ounce. Honestly, a single 10 ounce bottle makes two cocktails (depending on how much ice) so figure around 55 calories per cocktail for just the tonic water. To me, Schweppes is a little sweet but the diet tonic water tastes like donkey piss, so I avoid it. What is really interesting are the ingredients:
Carbonated Water
High Fructose Corn Syrup
Citric Acid
Sodium Benzoate (preservative)
Quinine
Natural Flavors
Yes, the evil that is "High Fructose Corn Syrup" is in that tonic and probably accounts for most of the calories. The "Diet" version actually uses saccharin instead of something more modern, perhaps that is why it tastes so awful.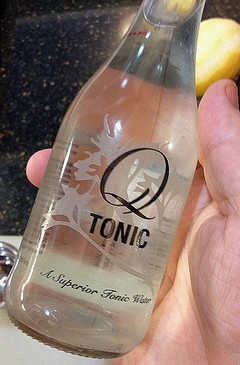 Q-Tonic is one of the new "boutique" tonics. Made in small batches it costs around $8 for four, 8 ounce bottles or $2 a bottle. It is actually more per bottle because it is two ounces smaller. However, it tastes soooo much better. It is not as sweet, and has a crisp flavor with that quinine bitterness. It is also "all natural" (which I know is important to you organic cocktail drinkers):
Carbonated Water
Organic Agave
Natural Bitters
Quinine
Lemon Juice Extract
You could argue that agave is no better than corn syrup but Q Tonic has only 38 calories per bottle or 4.75 calories per ounce.
Depending on who you believe, Gin has between 73 and 97 calories per ounce. Let call it 85 calories per ounce on the average. If your standard gin and tonic follows this recipe:
2 ounces gin
wedge of lime
4 ounces of tonic
You are looking at around 190-200 calories for a drink with Q-Tonic and 214 for Schweppes. Not a huge difference, really, but if you are going to consume the empty calories that are a good cocktail you may as well stack the deck in your favor and make certain that it is, indeed, a good cocktail! The marketers will tell you they have a lower glycemic index and are all natural or organic but I figure if you are consuming alcohol, isn't all the rest of that just a gimic?
There are other small batch tonics on the market. Two that I have tried are "Fever Tree" and Jack Rudy. Fever Tree is much like Q-Tonic, perhaps a bit sweeter, but it is imported and thus more expensive per ounce. Jack Rudy, on the other hand, is a tonic syrup.
Yes, that's right, a tonic syrup.
Jack Rudy is made in South Carolina in small batches and if you toss about an ounce into your glass and add seltzer you have just made some fresh tonic water for your cocktail. I find the syrup a little hard to get used to using because the order in which you add the ingredients makes a big difference. The syrup has a tendency to settle to the bottom so you need to add it last and just as you are pouring the seltzer into your glass. If you have a soda siphon this is a great way to go as the price per ounce is about $1 which puts it in the same range as the other small batch tonics I have mentioned. Because it is a syrup the ingredients and calorie count aren't published, but the stuff is very tasty and worth trying out.

So, now that the summer is fast approaching I invite you to kick off the dust of an overly harsh midwest winter and enjoy a good cocktail with friends and family. Leave your iPhone in the house, unless of course it is providing music to socialize by.

Enjoy

Franklyn
---